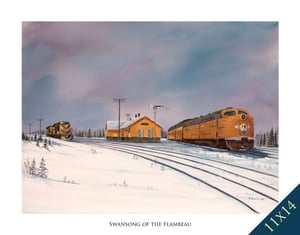 $

25.00
Prints are available in:
11x14 - $25
12x16 - $30
16x20 - $40
Prints are from a limited run of 100 prints per size. Each one is hand numbered and signed by the artist. A note card with the painting description and matching number and signature is also included.
ABOUT THE PAINTING
Train 216, The Flambeau 400 with two 1958 bi-level cars in tow, calls on Eland Wisconsin after coming down the line from Ashland enroute to Green Bay, Milwaukee and finally Chicago on this first day of 1960. To the west of the depot on the Marshfield line, a pair of GP7's idles as the crew, taking advantage of a lull in the action, has gone inside to top off their thermos's with hot coffee. They'll soon retreat to the confines of cab # 1549 in hopes to sip a cup or two before hooking up to a string of pulp cars due within the hour from Wausau. Eland's fine depot once boasted a lunch counter that existed for the pure indulgence of its patrons traveling one of the 38 passenger or 30 freight trains that converged from all four directions each day. Eight of those passenger trains alone arrived between the hours of 11:00-1:00pm daily.
Unfortunately, by the time this scene was captured, automobiles were already replacing the passenger train and semi trucks had their ligature tightening on the remaining freight traffic. Not even new bi-level equipment or a depot freshly painted in matching 400 colors could persuade people to go by train.
The line from Eland north to Rhinelander was abandoned on August 24, 1982 and the last steel wheels to scrape the rust from the rails was GP7 # 4152 on January 30, 1994. The depot still stands today as a faded reminder of the glory days of railroading in Wisconsin's north woods.
18 x 24 original acrylic painting was completed in 2007.
NOTES:
Print sizes include 1" border
Please check the image of the print you are ordering as cropping may vary from size to size.